Ever heard someone tell you "Oh, I'm not a maths/math person."
Well, I used to be that person.
But after speaking with several women in the STEM field, I'm starting to have a change of heart.
My biggest takeaways? Mathematics can take so many forms. Secondly, you don't have to be a genius to achieve something in mathematics.
Take World Maths Day past winner Tatiana Devendranath for example. She won the event through sheer hard work, smart planning, and discipline.
In the final part of our Women in STEM series, we asked four women in different STEM fields for their tips and advice to aspiring female mathematicians.
Related read: Debunking Gender Stereotypes
Work, Patience and Practise
Growing up, Dr Charles T. Ray was drawn to music and literature.
Even though she liked mathematics and recalls being fascinated by algebra; how "x" and "y" are used to represent numbers, she couldn't see how that would translate to something fun in the real world.
Today, her view of this has changed considerably.
She now thinks mathematical science is extremely fun and believes anyone can learn mathematics if they want to – especially if they find it fun.
Charles, who studied music at the Conservatorium of Music in Melbourne, describes that becoming good at mathematics is just like getting good at the piano – it takes lots of work, patience, and practise.
"People often say to me, 'I'm not good at math(s)' but this is just like saying 'I can't play piano' when they haven't practised!"
Never Too Late to Study Mathematics
To my surprise, Charles doesn't see herself being great in mathematics, but she's very comfortable with being bad at it. Why?
"I think this is a much more useful skill. Because I know if I find something hard, I understand it will take work to figure out, rather than giving up because I don't understand it straight away."
To girls who wish to pursue a career in STEM but struggling in those subjects in high school, the data scientist and research software engineer assures them not to worry too much.
Despite having dropped out of high school three times due to personal challenges and picking up mathematics again at the age of 30, she managed to carve a successful career for herself in the STEM world.
She encourages students to get exposure to some programming, especially statistics, as it will give them a head start in finding opportunities in this growing field.
While statistics may start out seemingly dry, she promises "it gets incredibly interesting the more you delve into it."
"The world is currently undergoing a revolution in data. There are many new opportunities in data science, in every field imaginable," she claimed.
"The best part about data science is that it is a transferable skill, so you can change fields, and apply your skills to new and interesting problems."
Follow Your Interest and Find Your Niche
Dr Juliette Woods originally studied physics when she went to university but switched to mathematics after a while.
The Principal Groundwater Modeller did her honours in Applied Mathematics and received her Ph.D. in Applied Mathematics (Computational Fluid Dynamics).
She encourages students to follow up on all their interests, even if its more than one thing, that's fine, as "you might find a field that will combine it and it'll probably be extremely useful."
For example, she had no idea that having an interest in geology, physics, mathematics, and computing could be combined into an actual field – one which is useful for people and the ecology as well.
"I found the right kind of spot that fit me, but there are so many other kinds of mathematics and other kinds of places you can work in. Follow your interest and find where your niche is."
Mathematics Will Help You in Any Profession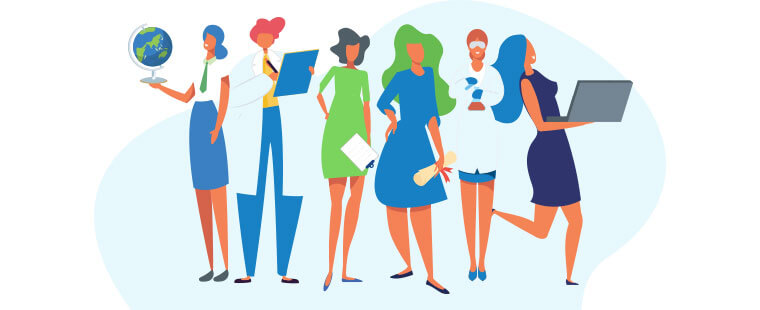 Growing up in Pakistan, Dr Mehwish Nasim hopes to be a medical doctor were dashed as she wasn't great in biology. However, she excelled in mathematics.
The Lecturer and Data Science Researcher has since worked with medical doctors, using mathematics to help predict diseases and the spread of infections.
To students who are unsure if they study mathematics, Mehwish encourages them to take a few courses of mathematics during their undergrad studies.
She believes "no matter what you want to do in life, mathematics is everywhere."
"Even if you want to become a psychologist, medical doctor, or mechanic, it doesn't matter which profession it is, mathematics will really help. You can use those skills everywhere. It would make you stand out."
Another tip she gave was to read widely.
"Reading helps a lot. It doesn't have to be mathematics. Just reading articles, newspapers, anything that is of interest to you. Keep your mind open about different options and different opportunities."
Related read: Who Says Mathematics Jobs are Boring?
Tip for Parents: Be Part of Your Children's Mathematics Journey
For Dr Mika Peace, what was really concerning was how early her children had an attitude towards mathematics.
The Fire Meteorologist, who has two school-going children aged 7 and 10, shares how young her children were when they started to develop an attitude towards mathematics.
She believes from an early age; children learn their attitudes about mathematics from their parents. And this carries through.
"Even in Year 1 when they were 5 to 6 years old, they either liked the subject or didn't. And they don't even know what mathematics is at that point – it was just counting," Mika added.
She reminds parents to be mindful of their view and words of the subject, because "as soon as you tell them it's hard and you don't like it, that shuts down and creates a barrier from an early age."
"I see mathematics as a language, as an opportunity to communicate and solve problems," said the mum of two. She recounts how she sat down with her son one day, to solve his homework on prime numbers together.
"He didn't need my help, but it was part of having that conversation about what we're doing, why we're doing it, extending it into a conversation and context."
Finding your Inner Mathematician
After speaking to these women in STEM, it dawned on me that the formula to being great at mathematics is not about striking the genius lottery.
Similar to learning any new instrument or playing a sport, being good at mathematics simply requires a positive mindset, patience, and practise – lots of it.
So, if you're like me and feel like you're 'naturally bad' at the subject, know this – there is an inner mathematician in you.
You just haven't discovered it yet.