Back in 2008, the media was abuzz with reviews of a 14-year-old Australian student from Victoria, Australia. Dubbed as the "human calculator" at that time, Tatiana Devendranath had a talent for answering mathematics questions at a breakneck speed.
As we gear up for World Maths Day on the 8th of March 2023, we caught up with the 2008 World Maths Day winner to find out what she's been up to, and how her life has changed since her win.
World Maths Day 2008 Winner Tatiana Devendranath
At first glance, Tatiana seems like your everyday student. An all-rounder at school, she did well in all her subjects and sports.
"I enjoyed school immensely, I love learning," she shared with me over a video call.
Contrary to what most people think, Tatiana didn't win World Maths Day because she was a mathematics genius. And she certainly doesn't see herself as one.
Instead, she relied on her drive, discipline, sheer hard work and smart planning.
In the lead up to World Maths Day, Tatiana kept practising to beat her own best scores as she felt that was "something you have control over and can improve."
In the process, she also decided to set a new personal goal for herself – to answer a million mathematics questions before the event. 
But before we get to that, let's rewind a few years back.
How it All Started
In 2005, she stumbled on a mathematics software in school that would transform her approach to mathematics and learning forever.
Before Mathletics, co-founder Shane Hill created Scaffolding Maths. At that time, Scaffolding Maths was the first-of-its-kind mathematics workbooks software designed on Excel.
Tatiana recounts, "My school happened to be one of the first schools to use Scaffolding Maths. It was pretty amazing when I think about it now. They were all Excel workbooks distributed on a CD, but it looked nothing like Excel. It looked like a sophisticated program for 2005."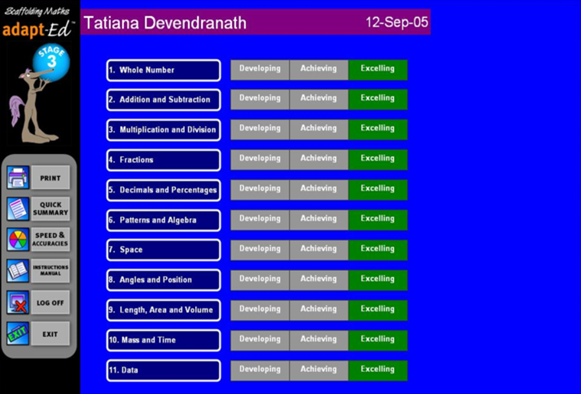 Screenshot of Scaffolding Maths. Image credit: Tatiana Devendranath
There was a section in Scaffolding Maths called SAM, where students would be timed for how fast they could get 10 or 12 mathematics questions correct (what we now know as Live Mathletics).
"I got hooked on that. So much so that they (co-founder Shane Hill and the team) had to rewrite the program because I had done it so many times and it wouldn't show all the records in the history," she explained.
"That's when I first met Shane, and he told me about a new program coming up." When Mathletics rolled out a few months later, her school was one of the first three schools in Australia to use it.
"It was so fun, it felt like I was playing a game."
"If I wanted to accelerate my learning and do a higher year level, or if I wanted to learn about a particular mathematics topic before my school planned to teach me about it, I could do that. I really liked being empowered to take that on and do it myself," she added.
"Mathletics created an interest in mathematics for sure. It accelerated my learning and interest. When I was at school I did more mathematics-orientated subjects, ones I may not have done, had it not been for Mathletics."
A Million Mathematics Questions Answered
So when the first World Maths Day kicked off in 2007, naturally Tatiana gravitated towards it.  She took part in the first event and was one of the top 40 students.
The following year, she decided to challenge herself and aim for the top.
To optimise her chances of winning, a 14-year-old Tatiana came up with a plan. She practised relentlessly and ran time trials to figure what times of the day she gets the best scores.
That's also when she decided to set a personal target and challenge for herself – to answer a million questions in Mathletics before the event in March 2008.
And she stuck to it. She hit her millionth question in slightly less than 3 years.
This means from July 2005 to early 2008, Tatiana was completing an average of over 300,000 questions per year, which is about 900 questions per day.
Taking part in, and winning World Maths Day instilled in her the value of smart planning, hard work and practice.
Exciting New Opportunities
Winning the event also opened the doors to many exciting opportunities in her life.
After her win in 2008, she was interviewed on the Today Show, Today Tonight, BBC, Sydney Morning Herald, CNN and on multiple Australian Radio stations.
Tatiana reveals to me she even made a guest appearance in Australia's longest-running drama series 'Neighbours' in 2011, where she helped to write mathematics questions for a scene and played a Mathlete judge.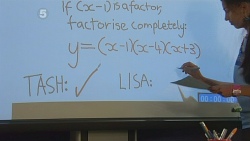 Tatiana as a Mathlete judge in episode 6155 of Neighbours. Image source: Neighboursepisodes.com
Of course, she had a great time filming and had a first-hand experience of what goes behind a TV production. But that's not all.
She was later invited to speak at the World Education Day Sydney Opera House presentation in 2012 and went on to co-host the same event three years later, at Sydney Luna Park.
She reflects, "You can't buy these opportunities. These are experiences I would never have if not for World Maths Day."
From Journalism to Data Analyst
While she picked mathematics subjects in her high school years, it was tough when it came to choosing a university degree as she loved both English and Mathematics. In the end, she decided to pursue a degree in Journalism Behavioural Studies. But her interest in mathematics didn't stop there.
6 months into her undergrad course, Tatiana noticed numbers would somehow find a way into her stories. Every time she started a piece, "it would always be based on statistics."
"I find my news angle by looking at data," she shared.
Combining her love of numbers and language, she started her first full-time role in Canberra at an education tech company Skoolbo, as Communications and Data Analyst.
She returned to Melbourne in 2019 to work for the NAB as Reporting and Insights Analyst, and was quickly promoted to Consultant – Analytics, Customer Resolution and Remediation.
Today, the 28-year-old is pursuing her passion for data and behavioural patterns as a Regulatory and Assurance Analytics Manager with ANZ, busy developing tools to analyse raw data and transforming them into important business insights.
Don't Be Afraid of Numbers
If there is one important piece of advice Tatiana has to offer, it's not to be afraid of numbers. She believes the way to overcome this is early mathematics exposure.
"I've heard people say, 'Oh, mathematics is like a foreign language to me', but when you think about it, it kind of is," said Tatiana.
"In English and humanities, you're using a language you speak with those subjects. With mathematics, you don't have as much exposure as you would with your native language."
"I think early exposure is hugely important in breaking down those fears, because people aren't used to seeing numbers as much as they are seeing words."
Related read: 6 Ways Mathletics Can Help Students With Mathematics Anxiety
Preparing for World Maths Day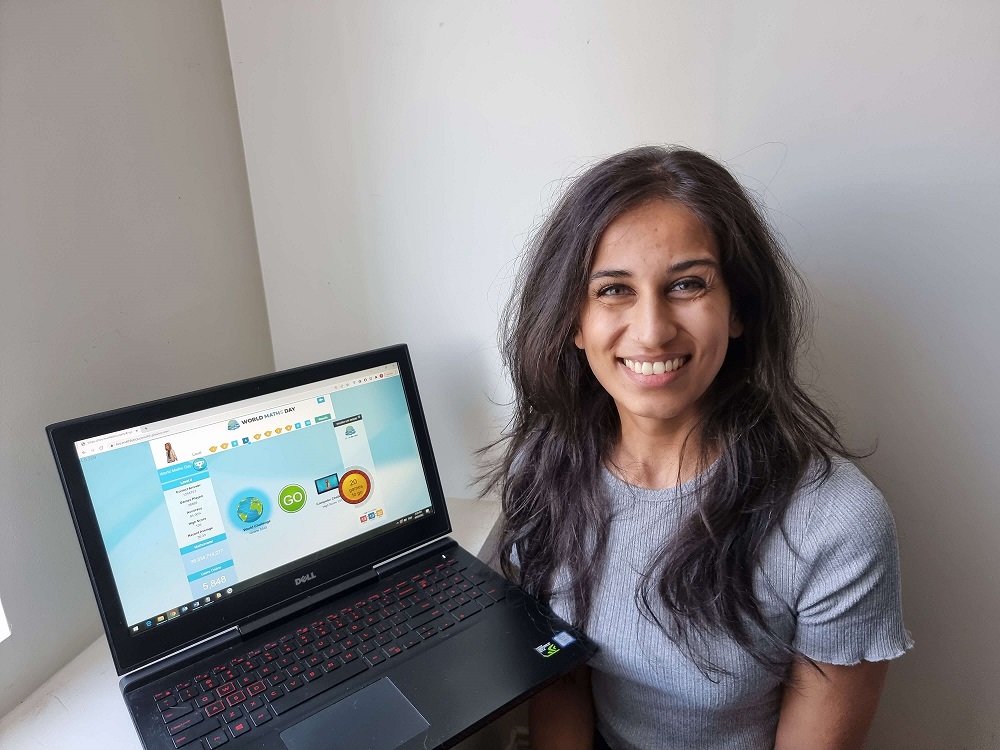 Tatiana Devendranath today, with her Mathletics account from 2005. Image credit: Tatiana Devendranath
So what was her secret to winning the world's largest online maths competition more than a decade ago?
She nailed it down to three things – focusing on your best scores, accuracy and having fun.
"Focus on your results, don't compare with others and set your own goals. That's what helped me to succeed."
She mentioned while "it's tempting to focus on your speed", she stressed to "focus on accuracy" and most of all, to "enjoy the experience and have fun."
"Naturally, you'll get better scores when you're having fun," quipped the past World Maths Day winner.
As I wrapped up our interview, it became apparent to me that underneath that big smile and down-to-earth persona, lies a tenacity for learning, discipline, and perseverance.
I discovered the confidence of someone who embraced her strengths and found a safe place that celebrates this. For Tatiana, that place was Mathletics.
And to complete a million mathematics questions at 14 years of age? I wouldn't even come close to doing that in my lifetime.
Maybe it's time for me to start crunching numbers again.