Fake news on social media. Combating bush fires. Groundwater and music theory. What do they all have in common? Well, it turns out – mathematics.
As part of World Maths Day celebrations and to empower girls to pursue mathematics, we spoke to different women in the STEM field and asked them how they apply mathematics in their work.
Combating the spread of fake news on social media
Many people think that one discipline can solve a certain problem but Dr Mehwish Nasim, a Lecturer and Researcher at Flinders University, tells me how she's tapping into theories from other disciplines to approach her research problems.
On top of lecturing undergrad and post-grad students, Mehwish is currently working on a research project – looking at the spread of misinformation on social media.
She uses network analysis methods and language processing techniques to detect bots and troll accounts on social media (mainly Twitter and Facebook). To create her mathematical models, she uses a statistical modelling language called R and the programming language Python.
Part of her research is also looking at ways to combat and prevent people from sharing misinformation.
"While modelling and predicting are the mathematics part, the theories about human interaction, that comes from social science. That's why it gets really interesting. You can model social behaviour using mathematics."
Catching fire with the help of mathematics
For Dr Mika Peace, her work as a Fire Research Meteorologist is very varied, using a combination of mathematics components and other skills. She tells me that "it's not just sitting down and solving equations, it's about applying mathematics in the real world."
After completing her PhD in Fire Weather 12 years ago, Mika's work at the Bureau of Meteorology in Adelaide involves fire and atmosphere interactions – how the energy released by fire changes the surrounding atmosphere and how that influences fire behaviour.
"We look at the interaction processes in three dimensions to understand why and how fire behaves the way it does. It's really multi-disciplinary because it plays into the meteorology, landscape, and fire aspects, and how it affects people and the decisions people make," the fire meteorologist shared.
Some of her work today includes running mathematical models and fire atmosphere models on the supercomputer. Other days, she could be working in operations, doing the weather predictions for ongoing fires.
For example, during the Black Summer fires, she was in the state operation centre, working inside the fire emergency services agencies, doing briefings and interpretations on a day-to-day basis about the weather and what the fire was likely to do based on those scenarios.
Other times she could be writing reports, research papers, talking to students about her work, attending workshops or talking to international colleagues.
"Mathematical proofs are like poetry or a Bach fugue"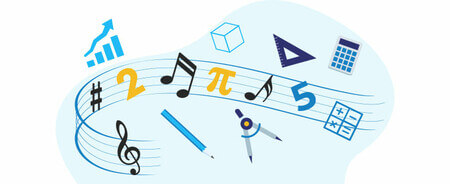 For Dr Charles T. Gray, mathematics came at a much later stage in her life.
Having first studied music at the Conservatorium of Music in Melbourne, and a literature degree at the University of Melbourne, Charles worked as a music teacher and piano player for hire for about twenty years.
While she loved practising music all day and getting into the flow of playing the piano, the reality of working in music was a lot more interacting with people and less playing Bach on her own.
Why do things sound like they do? To her, "mathematics is all about studying patterns and asking why." She found her happy place in mathematics and made the move from music to mathematics.
She spent her entire 30s studying mathematics and obtained her PhD in Mathematical Science from La Trobe University in 2021, at the age of 40.
Specialising in music theory, she claims that "musical theory (musicology) and mathematics are very closely aligned."
"Numbers abound in music; chords are described in terms of Roman numerals from the first chord I in the scale (tonic), to the fifth V (dominant). When we hear music, we are hearing these distances; we hear numbers," said the data scientist and research software engineer who grew up in Melbourne.
She reveals one of the most wonderful things about working in mathematical science is the variety of projects she's been exposed to – from medical research to philosophy, psychology, and ecology.
Mathematics has also allowed her to travel the world. She's currently in England and will be starting a new position at a neurocomputing start-up in Denmark.
Do we have enough groundwater for drinking?
People are motivated in mathematics for different reasons.
For Principal Groundwater Modeller Dr Juliette Woods, she enjoys using mathematics to help people manage groundwater responsibly.
"We are managing groundwater in a way where we allow humans uses to get the water that they need for drinking, industrial use, and irrigation. But at the same time, we want to make sure that we are maintaining or restoring our ecology."
Juliette leads a team of people to build and check underground water simulations for future water allocation planning.
"We start by talking to specialists who know the area we're simulating. We review the data. Then we develop a conceptual model, a description of how we think the aquifers work and behave. Then we translate that into a mathematical model."
To her, mathematics is "extremely inter-disciplinary" as she is constantly learning from people in other disciplines.
She elaborates, "Almost no one trains to be a groundwater modeller. You either get a degree in geology, engineering, or computer science and then you learn more about each of those. For example, we need to understand surface water, ecology, what is going on about economics, the use of traditional owners and legislation."
She debunks the notion that "mathematics is sometimes sort of cast as the lone genius".
"You need to be able to operate in an environment where you are constantly learning with people who know more than you on those other things. Communication is a part of that, especially when we are all subtly speaking certain kinds of jargon," explained Juliette, who has more than 25 years of experience. For example, a word that means something in mathematics, may mean something else to a hydrologist.
"We are a team; we're always talking to each other. Even within our groundwater modelling group, we're always talking to each other, to make sure we are sharing our knowledge."
Real-world mathematics is not as linear as you think
With so many interesting mathematics jobs out there, the opportunities are infinite.
In the US, nearly 8.6 million STEM jobs represent 6.2% of the country's employment. Australia's workforce of 11 million people includes almost 2 million workers with a STEM qualification.
So, if you're considering what subjects to study in the future, think about mathematics, because mathematical skills go a long way.
But don't take it from me. Take it from these women.