The countdown is over, the newest area of Mathletics has launched skywards today – the Multiverse mission has begun!
Available within the PLAY area of Mathletics, Multiverse is a brand new immersive game designed to increase multiplication fact fluency and recall.
Set in a rich, animated science-fiction world, students use their knowledge and recall of multiplication facts in a story context, to scan asteroids, harvest resources, navigate through space and even defeat space pirates!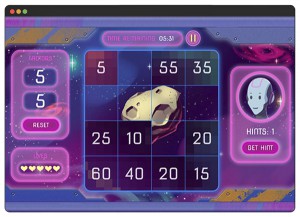 Learners in schools right across the world have been getting to grips with the new multiplication mastery game – and the response has been hugely positive!
Launching Multiverse as part of a school visit this morning, Mathletics Key Account Manager Jane Fisher attended the breakfast club at Bramley St Peter's C of E Primary in Leeds.
"The pupils loved this new area of Mathletics, the response has been great" said Jane Fisher."One student told me they loved going into space to learn their multiplication tables!"