This post was updated on 11 Jan, 2023.
Time to prime those brains and flex those fingers – World Maths Day is back!
On Wednesday, 8th of March 2023, students across the globe will battle it out to discover who is the world's strongest mathlete.
Here's what you need to know about the world's largest online mathematics competition and most loved mathematical celebration.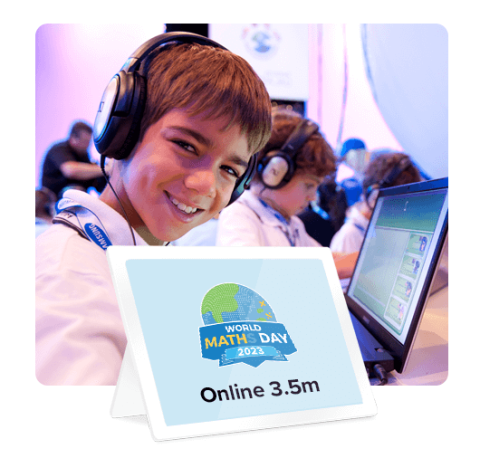 What is World Maths Day?
World Maths Day is an international celebration of mathematics. It is a global celebration of mathematics where millions of students aged 5 to 18 across the world compete in live mathematics challenges. It's all-inclusive, free, and open to schools as well as students learning from home.
Who created World Maths Day?
World Maths Day is created  by 3P Learning (the makers of Mathletics).
On which day is World Maths Day celebrated?
8 March 2023 is the date of this year's World Maths Day. It runs for 48 hours to cover all global time zones. On this day, millions of students across the world compete in Live Mathletics challenges to determine a global winner, while also participating in fun activities that highlight the wonder of numbers.
Why do we celebrate World Maths Day?
Since 2007, the popularity of World Maths Day has multiplied through the years. World Maths Day is celebrated every year to make maths exciting and engaging for all school-aged children from all over the world – regardless of cultural or socio-economic background, and regardless of ability. World Maths Day disregards the notion that you are either a 'maths person' or not.
What time does it start in my time zone?
8am NZ time – 8th March
6am Sydney time – 8th March
7pm UK time – 7th March
2pm New York time – 7th March
12pm Calgary time – 7th March
11am LA time – 7th March
How do I participate in World Maths Day?
World Maths day is free for anyone to enter. If you have a current Mathletics subscription you can use that, just log in on the day. If you don't, you can sign up for a free World Maths Day account. Simply register your interest at the bottom of this post.
What are the highlights of World Maths Day?
World Maths Day is all about fun, fast and inclusive mathematics, with Live Mathletics challenges being the highlight of the event. Students compete against peers from across the globe in 20 one-minute challenges. For every correct answer they achieve, they're awarded one point which goes towards their total World Maths Day score. 
Check out one of the 2010 champions, Rohith Niranjan of Global Indian International School (Tokyo), in action during a Live Mathletics challenge!
Is World Maths Day open to students of all ages?
World Maths Day has separate divisions for students in different grades/year levels. The event is restricted to school-aged students (4 to 18).
Related read: The Girl Who Smashed World Maths Day Records
What age groups are there?
K/F, 1, 2, 3, 4, 5, 6, 7, 8, 9+.
Do I have to compete in my year/grade?
Students must compete in the year group/grade that they are currently enrolled in at their school as of 7th March 2023. Students participating in an incorrect year group will be ineligible for prizes.
Does taking part in World Maths Day cost anything?
No. World Maths Day is free for all students! Not a Mathletics user yet? Your class can still take part.
Any questions about World Maths Day?
Check out the World Maths Day FAQ page for more information.
Register now to be part of World Maths Day!